July 24, 2020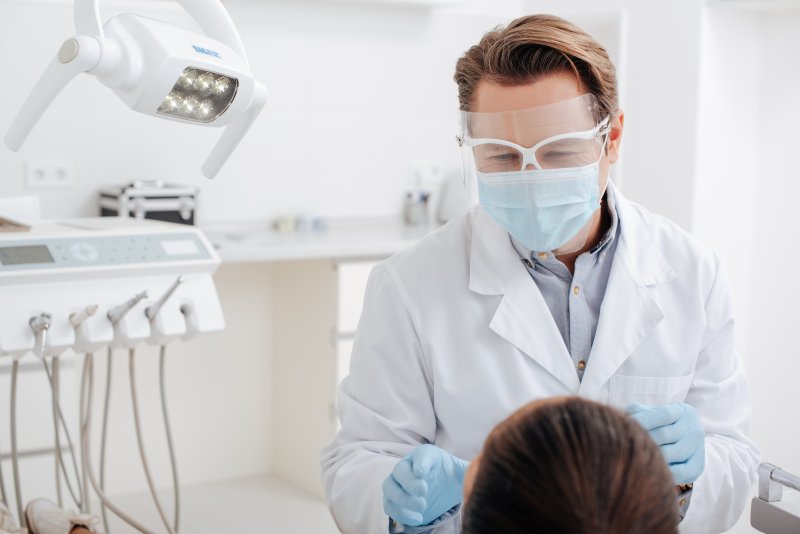 As the world continues to battle COVID-19, we must remain vigilant in the fight against the spread of this novel virus. Fortunately, social distancing guidelines, extensive sanitation practices, and additional personal protective equipment have all played an integral role in keeping your dental practice a safe, sterile environment. However, a dentist in Shelton is taking those already high standards to the next level by harnessing the power of technology to keep his patients safe. Read on for three advanced instruments they are using at your dental visit during this pandemic.
JADE Air® Surgical Air Filters
Even pre-pandemic, your dentist practiced proper infection control by using personal protective equipment and extensive sanitation to stop saliva, blood, and debris from becoming airborne. However, in light of COVID-19, additional layers of protection are being used to prevent patients from inadvertently inhaling harmful aerosols. With state-of-the-art technology, the JADE Air® Surgical Air Filter cleans and purifies the air by discreetly removing harmful contaminants from the practice. That way, you can breathe easy knowing you are getting the oral care you need without compromising your safety!
High-Volume Suction Machines
Across the U.S., dental practices are introducing sequenced patient scheduling to control foot traffic and allow for ample cleaning time. Since sanitation and prevention of cross-contamination are of the utmost importance, especially during a pandemic, your dentist in Shelton is using medical-grade machines to pull potentially harmful contaminants at a microscopic level. This prevents possible germs, bacteria, and viruses from lingering on surfaces long enough to be spread from person to person.
Energy Recovery Ventilation System (ERV)
Top-notch air conditioning and heating units are a crucial part of making sure you are comfortable at your appointment. To ensure that contaminated air is not consistently being recycled throughout the day, an ERV is incorporated into the air conditioning system. By effectively removing viruses, contaminants, and other microorganisms, patients can have peace-of-mind knowing there is little to no potential of being exposed to the novel COVID-19 virus (or any other virus for that matter!).
Contrary to popular belief, routine dental visits are not an elective procedure. In fact, the condition of your oral health can directly impact your immune system, which is dangerous during a pandemic. Fortunately, you can schedule your checkup and cleaning with ease knowing technology is being used to keep your oral and overall health in pristine condition!
About the Author
Since earning his Doctor of Dental Medicine from the University of Alabama at Birmingham, Dr. Neal Graber has continued to prioritize his training through continuing education courses on conscious sedation, implant-supported dentures, and 3D guided dental implant surgery (to name a few!). Today, he uses his two decades of experience, impressive skill, and passion for dentistry and technology to provide his patients with world-class dental care that is second to none. If you would like additional information on how he is using his expertise to practice COVID safety, please visit his website or give him a call at 203-925-1911.
Comments Off on 3 Ways Technology Can Keep You Safe at Your Visit During COVID-19
No Comments
No comments yet.
RSS feed for comments on this post.
Sorry, the comment form is closed at this time.