January 6, 2021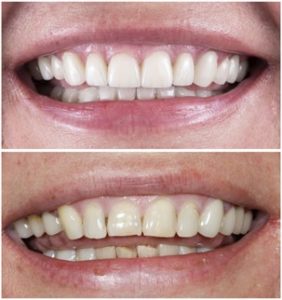 If your goal is to have a smile you can feel proud of, cosmetic dentistry is a great way to achieve it. But what makes someone a good candidate? Depending on the current state of your oral health and your dental goals, your dentist can recommend the best option for your needs. Read on to learn about two of the most popular cosmetic treatments and the flaws they can correct. 
Veneers
If you have multiple dental issues, porcelain veneers could be a great option. Veneers are thin shells that are created from medical-grade porcelain, custom-made and bonded to the surfaces of your teeth with composite resin. Porcelain is naturally white and has an appearance that is very similar to your teeth, so your result is a bright, natural-looking smile that can last for 10 to 15 years. Veneers can correct severe dental discoloration, cracks or fractures, chips, gaps and crowded or misshapen teeth. If you have tooth sensitivity due to worn-down enamel, veneers can offer long-lasting relief.
Cosmetic Dental Bonding
If you'd prefer a treatment that is less invasive than getting veneers, cosmetic dental bonding provides a great alternative. During this treatment, your dentist will apply a tooth-colored resin to the flawed dental surfaces, sculpt it to perfectly fit your teeth and polish it to fit in flawlessly with the rest of your smile. Dental bonding can correct the appearance of chips, minor stains or discoloration, minor gaps or misshapen teeth.
Teeth Whitening
If you simply want a whiter smile, teeth whitening may be your best option. Some try to brighten their smiles using over-the-counter whitening products, but a professional teeth whitening session with your dentist offers a much more reliable result. Zoom! Teeth Whitening is an affordable, high-quality treatment that can improve your smile in just one hour. This treatment can remove stains from coffee, certain fruits and vegetables, tobacco or wine. It can also correct stains are due to injury or aging.
These cosmetic dentistry treatments are all capable of transforming your smile, and change your life. If you're ready to have the smile you've always wanted, your dentist can help.
About the Author
Dr. Neal Graber has been improving smiles and changing lives in the Shelton community for nearly two decades. He is dedicated to providing patients with comprehensive dental care in a comfortable environment. Dr. Graber earned his Doctor of Dental Medicine from the University of Alabama at Birmingham and has continued to expand his knowledge through continuing education courses in order to provide his patients with the latest techniques and technology. His services include general dentistry, an array of cosmetic dentistry treatments and more. If you'd like Dr. Graber to help you determine the best way to improve your smile, contact the office at (203) 925-1911 or visit the website to schedule an appointment today.
Comments Off on Cosmetic Dentistry Treatments: Which is Best for You?
No Comments
No comments yet.
RSS feed for comments on this post.
Sorry, the comment form is closed at this time.