September 8, 2021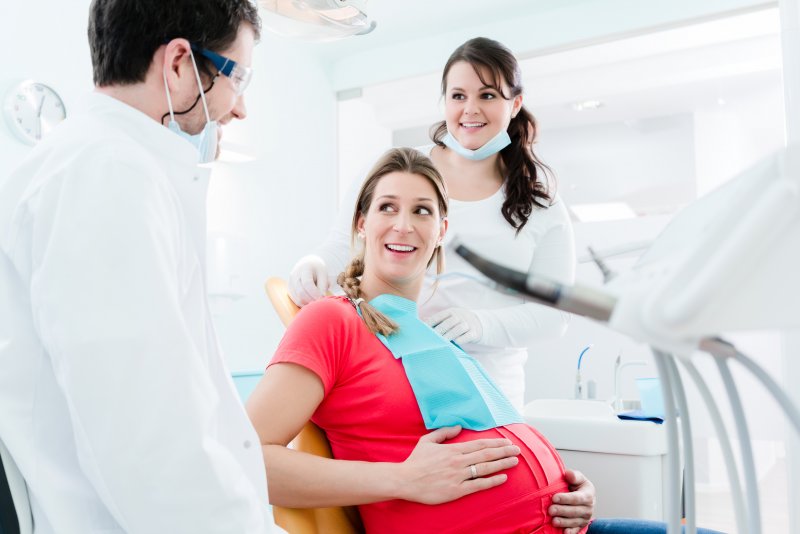 Are you or a loved one expecting? If so, you're probably wondering whether it's safe to get dental work while pregnant. Well, not only is it safe, but it's absolutely necessary! Seeing your dentist regularly is always recommended, pregnant or not. However, it's especially important for expecting mothers because the rise in hormone levels during pregnancy causes gums to swell, bleed, and trap food, leading to increased gum irritation. Read on to learn more about the safety of getting dental work while pregnant.
Is Dental Work During Pregnancy Safe?
Although dental treatment can be done at any time during pregnancy, it's best to perform and receive dental work during the second trimester (weeks 14 to 20). Let's take a look at how each of the following can affect expecting mothers.
Basic Treatments
When you have a damaged or decayed tooth, the best course of action will always be to treat it as soon as possible to prevent infection. With that being said, basic treatments like fillings and crowns can be done during pregnancy if needed. Even more complex procedures like root canals or tooth extractions can be performed! That's because the consequences of not treating an infection during pregnancy outweigh the risks of medications used during dental treatment.
Medications
If dental work is needed during pregnancy, your dentist will adjust your medications as needed. For example, when administering anesthesia, they'll give you just enough to make you feel comfortable. They'll also prescribe you antibiotics and other medications that are pregnancy-safe, so you don't have to worry about them affecting your developing baby.
Dental X-Rays
Routine X-rays are usually taken during every bi-annual checkup. However, they can be postponed until after birth if you're pregnant. It's worth noting that X-rays during pregnancy are considered safe with appropriate shielding. The radiation dose is not significant enough to cause adverse effects in a developing embryo or fetus.
Tips for Pregnant Women
If you're expecting, here are some dental tips to keep in mind:
Limit your sugar intake and eat a well-balanced diet to prevent oral health problems.
Attend all routine checkups and cleanings during your pregnancy.
Make sure you let your dentist know that you're pregnant.
If possible, delay non-emergency dental work until the second trimester or after birth.
Elective treatments like teeth whitening, porcelain veneers, and other cosmetic procedures should be postponed until after birth.
Take a pillow to help keep you and your baby more comfortable during dentist appointments.
Keep your legs uncrossed while sitting in a dentist's chair to maintain healthy circulation.
As you can see, getting dental work done while pregnant is completely safe. Your dentist will do everything possible to keep your smile happy and healthy – without having to put you or your baby at risk!
About the Author
Dr. Neal Graber has an impressive two decades of dentistry experience under his belt. After studying at Emory University, he earned his Doctor of Dental Medicine at the University of Alabama at Birmingham. Dr. Graber is passionate about helping his patients obtain their absolute best smiles. If you need dental work during pregnancy, he and his team will accommodate you as needed and provide you with the high-quality, comfortable, satisfying dental care you deserve. Visit our website or call (203) 925-1911 to make an appointment.
Comments Off on Is It Safe to Have Dental Work Done While Pregnant?
No Comments
No comments yet.
RSS feed for comments on this post.
Sorry, the comment form is closed at this time.