Dental Implants – Shelton, CT
Regain Your Strong & Confident Smile
Missing teeth can change your entire life, leaving you nervous about smiling in front of others or making it difficult to eat the foods you love. There are several options for tooth replacement, but one stands out above the rest in how close it comes to looking and feeling like your original, natural teeth: dental implants. Over 5 million implants are placed in the United States every year, and the patients who receive them enjoy healthier, stronger grins as a result. Call the Dental Center of Huntington today to schedule a consultation with Dr. Graber to discuss tooth replacement with dental implants in Shelton, CT.
Why Choose Dental Center of Huntington for Dental Implants?
Entire Procedure Completed Under One Roof
Expertly Crafted Restorations
Skilled Restorative and Cosmetic Dentist
What is a Dental Implant?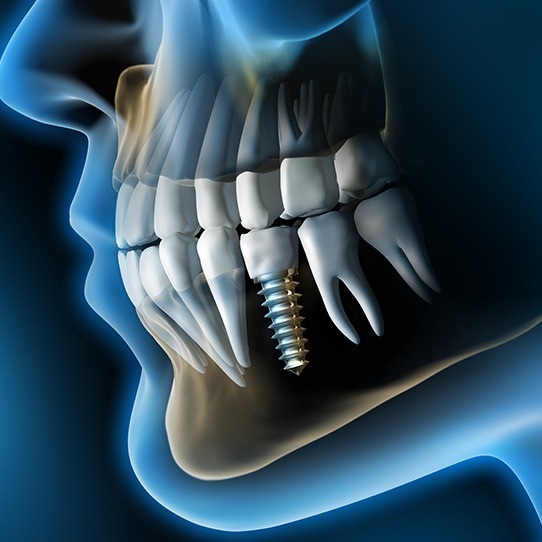 Instead of directly replacing teeth, dental implants are meant to provide a foundation for a dental prosthetic such as a single crown, a dental bridge, or dentures. The implant itself is a thin titanium post that is normally shaped like a screw, and it is inserted into the jawbone in the areas where teeth have been lost. The bone joins with the titanium through a process called osseointegration, effectively turning the implant into a sturdy new "root" for artificial teeth.
The 4-Step Dental Implant Process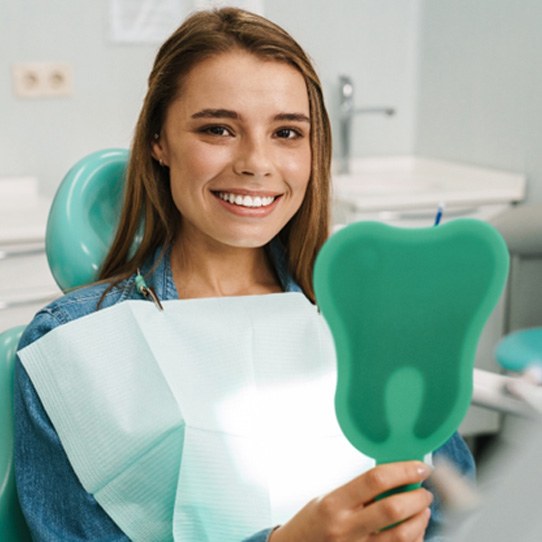 Dentures and dental bridges can be placed in just two appointments, but dental implants require a multi-step process that can last for several months. It may seem like a long time to wait for new teeth, but it will be worth it in the end once you're enjoying all the unique benefits that dental implants have to offer! At our office, the entire dental implant procedure is completed in-house; Dr. Graber is thoroughly trained in a variety of implant procedures and can guide you through the entire process of getting new teeth supported by reliable new implant posts.
Initial Dental Implant Consultation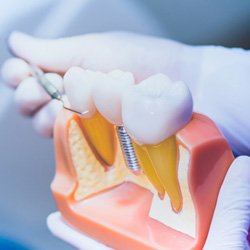 During the initial consultation, Dr. Graber will need to review your oral health and medical history to confirm that you're a candidate for dental implants. We may need to plan preliminary procedures such as gum disease therapy, tooth extraction, or bone grafting depending on whether any conditions in your mouth need to be taken care of before implant surgery. Once we're sure implants are right for you, we can walk you through the remainder of the treatment, including a step-by-step breakdown of the timeline and cost.
Dental Implant Surgery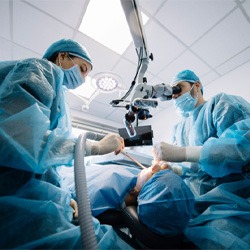 Our practice places dental implants in-house, letting you enjoy the benefits of getting dental implants from a team that you're already familiar with. Implant surgery is a relatively simple procedure; after numbing your mouth, we'll make strategic incisions in the gums so that we can place implant posts in specifically chosen parts of your jawbone. We will then close your gums and place a protective cap over each implant post to keep them safe while your mouth is healing.
Dental Implant Osseointegration & Abutment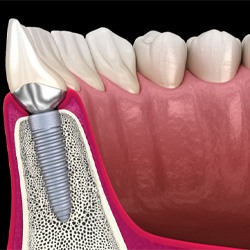 Osseointegration is the term for the process where the jawbone forms a permanent bond with your dental implants. Without osseointegration, your implants wouldn't be able to provide full strength and stability to your replacement teeth, and they could even come loose. As such, you'll need to wait three to six months for osseointegration to complete itself. Afterward, we'll attach a small connector piece called an abutment to each dental implant post. The abutment is what will connect the final restoration to the rest of the implant.
Delivery of Dental Implant Restoration(s)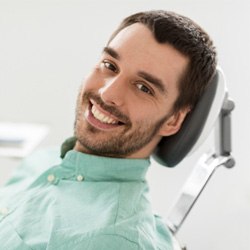 A dental implant restoration could be a crown, bridge, or denture based on the number of teeth that need to be replaced. Your restoration will be designed based on an impression of your mouth that we'll take after your mouth has finished healing from the previous step. Once the final restoration is ready, you'll return to our office for one final appointment. We'll make last-minute adjustments as needed and check to make sure that your bite is comfortable before we put the finishing touches on your new smile.
Benefits of Dental Implants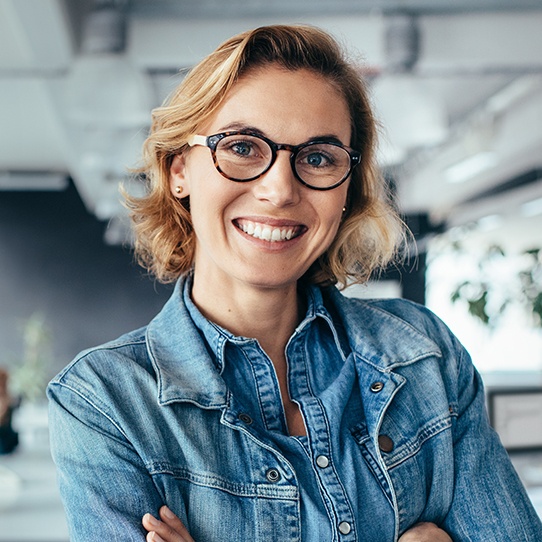 Just like traditional bridges and dentures, implants help your mouth function normally again so that you can eat, speak, and smile without reservation. But implants have many additional advantages as well, such as:
An Improved Appearance: Tooth roots are necessary to stimulate bone growth in your jaw. Implants provide such stimulation, which stops the bone from breaking down. This prevents your facial structure from collapsing, helping you maintain a younger appearance.
Natural Look and Feel: Once your implant has joined with your jaw and has been topped with an expertly customized restoration, it will look, feel, and function like your natural teeth.
Improved Diet: The chewing strength implants provide lets you enjoy all your favorite foods again.
Easy Maintenance: You can take care of your implants by brushing and flossing every day as you would normally.
Longer Lifespan: Your typical traditional denture or bridge might last roughly 10 to 15 years, but implant posts can stay in the mouth for decades.
Are Dental Implants Right for You?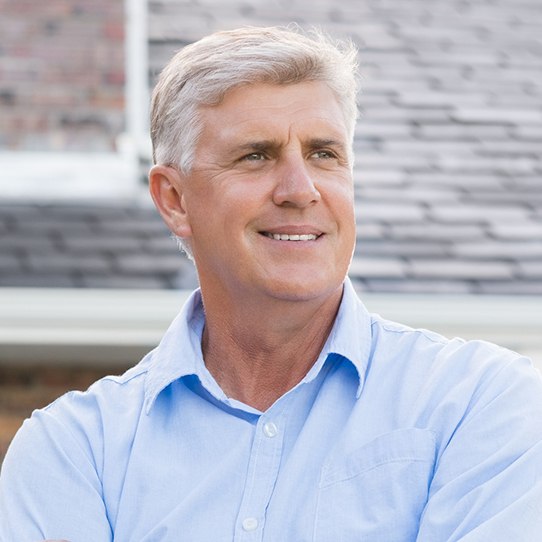 Before implant surgery, Dr. Graber needs to take X-rays of your mouth to confirm that there is an adequate amount of bone tissue available and that there are no oral health issues that might cause the implant to fail. We can then start planning the procedure based on how many teeth have been lost.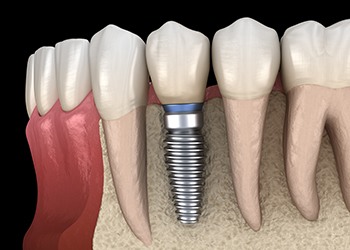 Missing Single Tooth
About 120 million people in the United States are missing at least one tooth. A single implant can be used to fill such a gap. We can attach a lifelike ceramic crown to the post once your mouth has completely healed after the placement surgery (which typically takes a few months).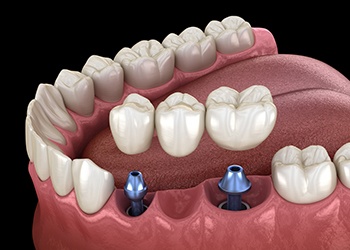 Missing Multiple Teeth
A dental bridge can replace several teeth in a row, but the downside is that permanent changes have to be made to some of your natural teeth in order to place the restoration. However, we can preserve these teeth by using a pair of dental implants to support a bridge instead.
Missing All Teeth
People who wear dentures often have to worry about their false teeth slipping at awkward moments, but this won't be a problem if they're being retained by implants. To support a full denture, about 4 to 6 implant posts are typically required.
How Dental Implants Work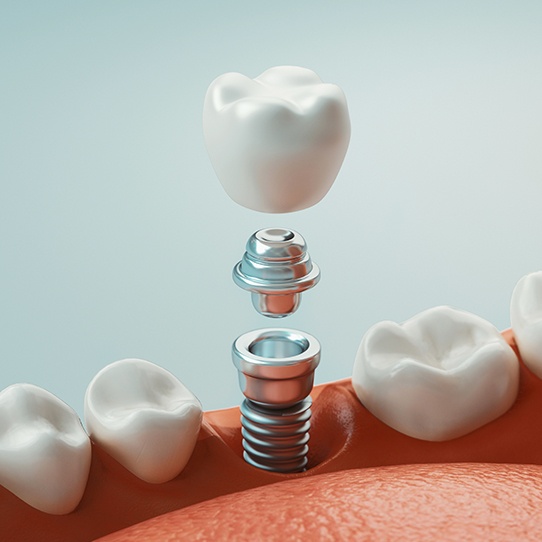 The dental implant process is broken into a few different stages:
First, a consultation is performed to confirm that you're a good candidate for the surgery.
Next, we'll place the implants into your jaw and allow time for the bone to fuse with the metal.
Finally, once the implants are firmly rooted in place, we can design and attach your prosthetic tooth or teeth.
All of the above steps can be conveniently completed right here at Dental Center of Huntington so that you don't have to worry about driving across town to a specialist that you barely know.
Understanding the Cost of Dental Implants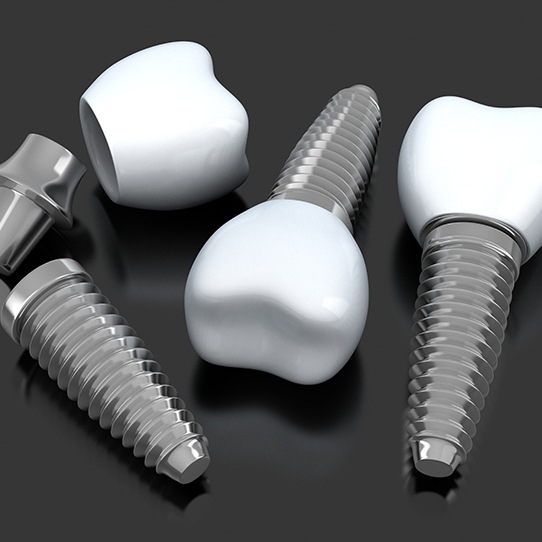 In the midst of researching the benefits of implants and determining whether they're right for you, there's one important question you need to answer as soon as possible: how much will dental implants ultimately cost? The surgery will be tailored to your unique needs, and the final price will reflect that. You can discuss the factors that affect implant costs with Dr. Graber during your initial consultation. This will also be your chance to ask about your payment options.
Preliminary Treatments & Dental Implant Surgery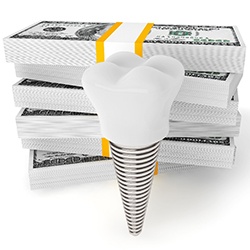 Sometimes you might have to pay for tooth extractions in order to make room for dental implants to be placed. You may also require periodontal therapy or bone grafts to restore the health of your mouth before the implant process actually begins. These preliminary treatments all have their own costs that you'll need to take into account.
Of course, when talking about costs related to implants, you can't forget about the dental implant surgery itself. One advantage of having the implant procedure done at the Dental Center of Huntington is that the surgery is performed under the same roof as the implant restoration. This makes paying the requisite fees much easier since you don't have to worry about receiving bills from separate practices.
The Parts of Your Dental Implant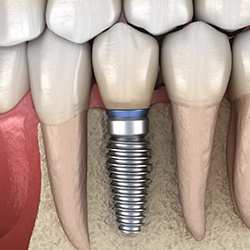 Dental implant posts and abutments are normally made of titanium due to its biocompatible properties. The crown, bridge, or denture supported by the posts will be composed of a lifelike ceramic material that closely matches the appearance of real teeth. Not only does each part of the implant have its own cost to think about, but the price can vary depending on the material used as well as the manufacturer. Dr. Graber has very carefully selected highly reliable manufacturers who in turn use the best materials for restoring and maintaining smiles.
Final Dental Implant Restoration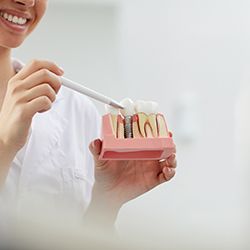 A dental crown supported by a single implant will naturally be less costly than a dental bridge anchored to two implants – which in turn will carry a lower cost than a denture that requires four to eight implants. The extent of your tooth loss and the type of restoration needed to correct it will have a dramatic influence on how much you end up paying for your treatment. We'll make sure you understand your options and help you pick the most cost-effective solution.
Does My Dental Insurance Cover Dental Implants?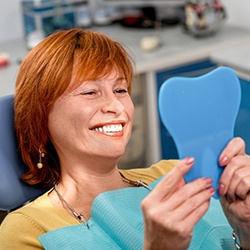 We'll need to review your individual policy with you to determine whether your insurance covers implant treatment. You should also double check with your insurance carrier to make sure that you fully understand your coverage. In many cases, the implants themselves will not be covered, but you can still use insurance to help pay for related preliminary treatments and parts of the restoration.
Making Dental Implants Affordable
When dental insurance doesn't cover your care, you can still use CareCredit financing to break up the cost of care into smaller installments that are easier to fit into your budget. We can help you apply for a CareCredit plan that's customized just for you.
Dental Implant Technology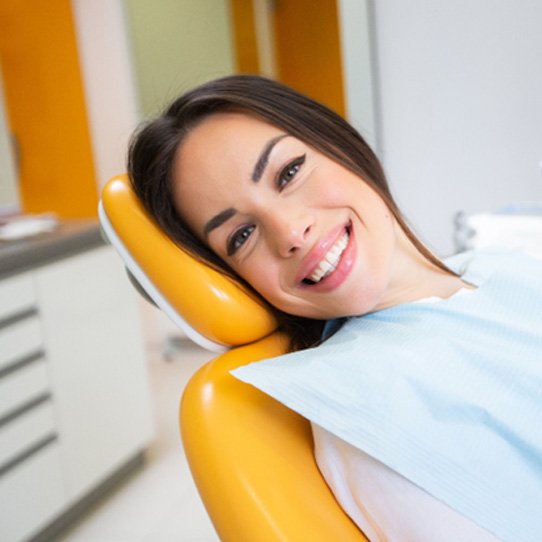 Our team is fully dedicated to making our services as safe and efficient as possible by taking advantage of the latest technology. This is especially true when it comes to advanced procedures such as dental implant surgery, where success depends on careful planning and being proactive about avoiding issues. With the state-of-the-art technology at our practice, we can offer our patients more precise treatments that minimize the risk of complications. Below are some key examples of modern advancements that we use to enhance the dental implant process.
3D Cone Beam Imaging/3D CT Scanning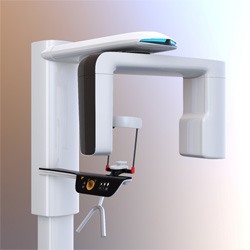 A traditional dental X-ray can be useful for identifying unseen dental problems, but it won't necessarily give us all of the information we need to plan a successful dental implant surgery. Instead, we can use cone beam imaging to create a comprehensive digital model of your mouth. To create this model, a special CT (computed tomography) scanner will rotate around your head, taking up to 200 pictures of your teeth, jaws, and other oral structures. All of these images are combined to create a three-dimensional digital recreation of your mouth that can be examined from any angle.
Thanks to cone beam imaging, we can narrow down exactly where your dental implants should be placed and figure out the best angle for inserting them into the jaw. We can also identify any potential obstacles (such as nerve pathways near the implant site) so that we can account for them on the day of surgery and improve the chances of a successful procedure.
Antibacterial Coating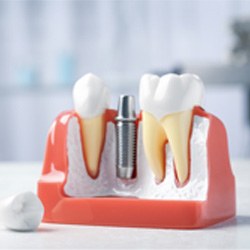 Dental implant failure is rare, but we still need to take whatever steps we can to avoid it. One of the most common reasons for implants to fail is a type of gum disease called peri-implantitis. This is when the tissues around the implant post become infected, gradually breaking down over time. If peri-implantitis isn't treated quickly, it can cause the implant posts to come loose. We can lower the risk of such an infection occurring by applying a special antibacterial coating to your implants.
The primary purpose of the coating is to make it more difficult for harmful oral bacteria to build up on the surface of your implant posts. It can also help eliminate harmful bacteria that may be near the implant site. As a result, you'll be much less likely to suffer an infection while your mouth is still recovering from implant surgery, allowing your jaw to form a bond with the dental implant posts without any issues.
The technology used to plan and perform dental implant surgery could make a major difference in the short and long-term success of your smile. During your initial consultation (or at any point during the implant process), feel free to ask about cone beam imaging, antibacterial coating, and other advancements that we utilize when placing dental implants.
Dental Implant FAQs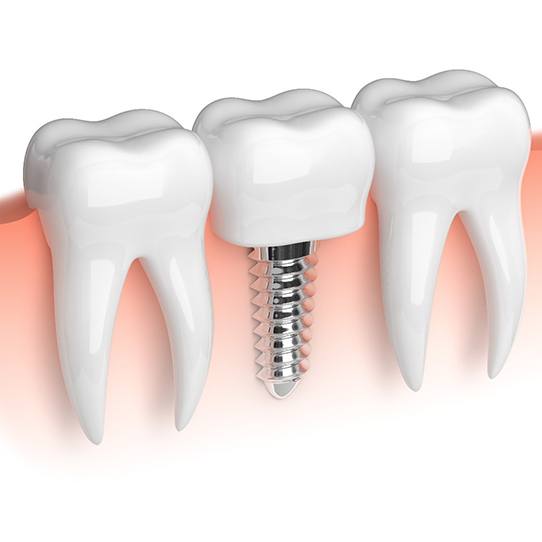 Are you learning about dental implants for the first time? Helping a family member replace teeth and want to ensure they know as much as possible about their future care? Our team at Dental Center of Huntington is happy to answer your questions and help you become fully informed about your future tooth replacement. Below, you can read a handful of the most common questions we hear and our responses for your convenience. Of course, you're always encouraged to get in touch and schedule a consultation as well!
Do Dental Implants Feel Natural?
After your dental implant has fully healed and integrated with your jawbone, you can expect your tooth replacement to feel almost indistinguishable from your natural teeth. This is thanks to the titanium post being incredibly effective at mimicking your previous tooth's root. However, do not expect to feel anything from the implant itself as it contains no nerve endings to transmit sensations. Rather, what you're feeling in this area, whether it's heat, cold, or pressure, is coming from the gum tissue that has healed around the implant.
Do Dental Implants Decay?
Dental implants as well as the restoration that attaches to them are not made from organic materials. That means neither component can develop decay or cavities. However, your remaining natural teeth can just as easily become damaged by plaque and the gum tissue surrounding the implant can still become infected. For this reason, you will still need to practice daily oral hygiene to protect the longevity of your tooth replacement and overall oral health.
Will People Be Able to Tell That I Have Dental Implants?
Our office captures highly detailed impressions of your mouth using a modern digital impression system. This allows us to create restorations that are created to your exact needs and specifications. Once the restoration has been attached to the implant(s), no one should be able to differentiate them from your natural teeth. Because of the integration process the implant undergoes, you won't need to worry about holding your jaw in a specific way just to ensure they remain still, something that cannot be said for dentures once they are several years old.
Can I Get Dental Implants If I Smoke?
While we do not recommend using tobacco after dental implants have been placed, those who smoked previously can still get dental implants as long as they quit. Smoking, chewing tobacco, and vaping all cause dry mouth, slow down the healing process, and make it more difficult for the implant to fuse with the jawbone. You also increase your risk of dry socket when smoking, which is when the blood clot that forms over the implant site becomes loose and falls off. If you want dental implants and currently smoke, you should quit at least two weeks before the procedure occurs and avoid smoking for at least two to three months afterward. Of course, now is a perfect time to quit entirely as those who smoke are generally at much higher risk of implant failure.
Dental Implants Post-Op Instructions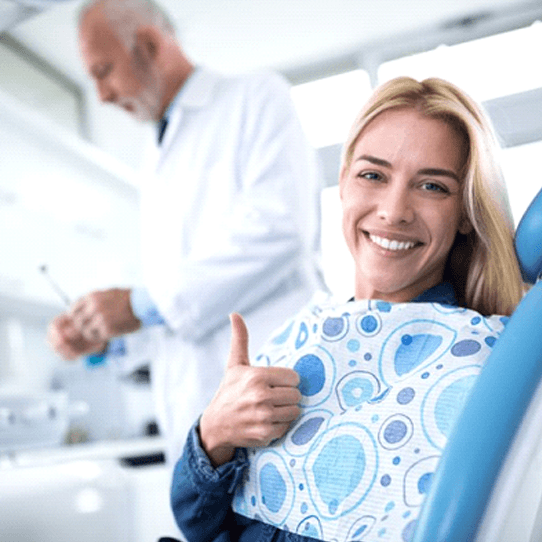 Following dental implant surgery is the recovery period, and our team is happy to assist you with every step throughout this process! Directly after your surgery, we'll provide you with post-op instructions to help you make a speedy recovery. Below are some general instructions that can give you an idea of what you'll be dealing with after your surgery; of course, feel free to contact us with any questions or to request additional information.
What to Do Directly After Dental Implant Surgery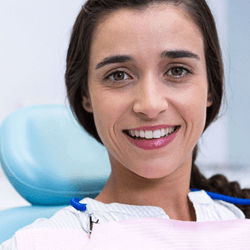 By nature, implant surgery is a bit of a taxing process; however, with the right care and proper maintenance, you should be able to make a comfortable and quick recovery that brings you one step closer to having a complete and healthy smile again. During the initial recovery period, it's important to make sure that the blood clot that forms over your surgical site remains completely untouched so your gums can heal around the implant. To help with this, be sure to avoid:
Drinking with straws
Spitting (use tissues instead or swallow your saliva)
Smoking or using tobacco
Touching the surgical site with your fingers or tongue
Common Side Effects When Recovering from Dental Implant Placement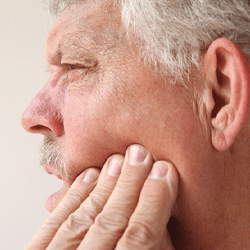 It's not uncommon to experience gradual and intermittent bleeding, swelling, and general discomfort after undergoing dental implant surgery. However, these symptoms should all disappear on their own. If you're experiencing a symptom that is progressively getting worse or lasting longer than normal, don't hesitate to give us a call! In the meantime, here are some steps you can implement to manage your side effects:
If bleeding occurs, you can apply gentle pressure to the area with a clean piece of gauze.
Use a cold compress on the side of your cheek to reduce swelling.
Take your prescribed or over-the-counter medications to alleviate pain.
Your Diet After Dental Implant Surgery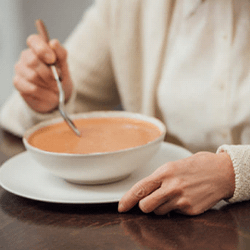 It's important to stick to only eating soft foods during the first few days following your surgery. However, within a few days, you should be able to slowly reintegrate more solid foods—just be sure to avoid chewing directly on the implant surgery site. Here are some foods that we typically recommend patients stock up on:
Mashed potatoes
Yogurt
Pudding
Ice Cream
Soup (not too hot)
Scrambled eggs
Pasta
Post-Op Health & Oral Hygiene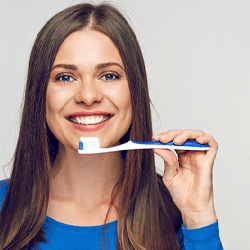 It's crucial to keep your mouth clean after your surgery to make sure that your implants successfully integrate with your jawbone. Here are a few oral hygiene tips to help you out:
You can brush your teeth as you normally would the day after your surgery but be sure to be gentle and careful while brushing near the surgery site.
Rinse your mouth with salt water two or three times every day, ideally after eating. If you have a prescription mouth rinse, you can use that instead. Be sure to avoid any mouthwash that contains alcohol.
What to Do After Your New Teeth Are Attached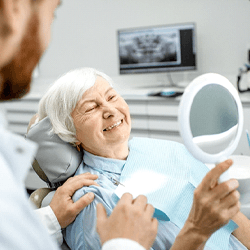 Once your mouth has healed up and your implants have bonded with your jawbone, the last step is to attach the final prosthetic to the implant post(s). You may experience some minor sensitivity in your gum tissue, but with pain medication, it should be completely manageable. You should call us immediately if you notice any swelling or bleeding following this, as it likely indicates there's a problem.
Maintaining & Caring For Your Dental Implants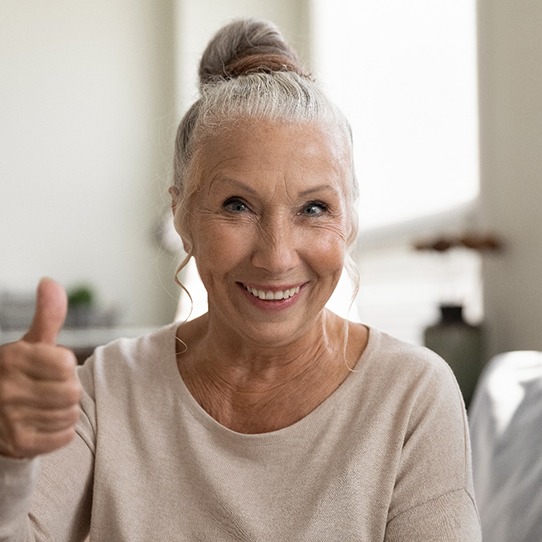 Although the treatment process of getting dental implants can seem complicated, keeping them in excellent condition after they're in place is actually quite simple compared to traditional dentures. Basically, you care for your dental implants just as you would real teeth! To understand exactly what this maintenance requires, keep reading the content below, and feel free to reach out to us if you have any questions about how to take care of your smile!
Make Oral Hygiene a Priority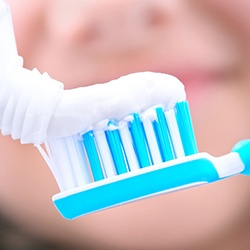 If you have not already developed the habit of brushing and flossing your (real or artificial) teeth every day, you need to do so now. While your replacement teeth will not succumb to tooth decay, you can still contract a gum disease that could put your implants at risk of failure. Make sure you're brushing twice daily and flossing at least once each day to keep oral bacteria under control.
Eat a Healthy Diet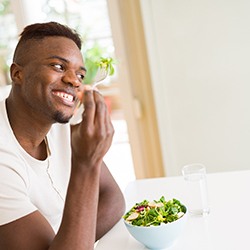 To keep your smile strong, you need to nourish it with healthy foods. A diet of vegetables, fruits, and calcium-rich foods can provide necessary nutrients to your jawbone and help get rid of harmful oral bacteria. In addition, you should limit how much sugar and carbohydrates you have because these encourage bacterial growth in the mouth.
Break Bad Habits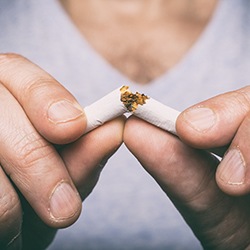 Before you begin the process of getting your dental implants, it is the perfect time to stop any bad habits you may have. For example, smoking is a bad habit that increases your risk of gum disease significantly, which raises the risk of implant failure. Another habit you should consider breaking is chewing on ice or hard objects. By taking action now—before your replacement teeth are in place—you can help your implants last as long as possible.
Protect Your Dental Implants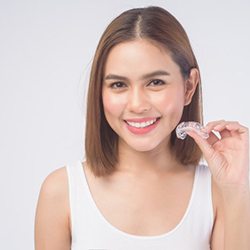 Do you play sports? Do you grind or clench your teeth while you sleep? You can't protect your teeth against every possible accident, but in these cases, you can! While you participate in sports, be sure to wear a mouthguard to stop any blows to the face from damaging your restored smile. Also, if you know that you have a problem with bruxism (a condition where you grind your teeth during sleep), make sure you talk to Dr. Graber about it.
Schedule Regular Dental Checkups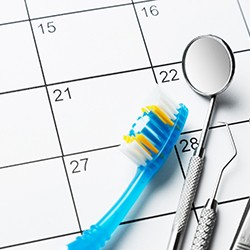 Obviously, at-home oral care is essential to preserving your dental implants, but even if you have no natural teeth left, you still need to visit our Shelton office on a regular basis for checkups and cleanings. These appointments, which need to occur at least every six months, allow Dr. Graber to examine your smile and look for any early signs of trouble. Should he find any indication of a problem, he can quickly address it before it puts your implants at risk of failure. The cleanings are also important because everyone misses some plaque every now and then, and our team can remove it before it leads to an infection.