March 1, 2022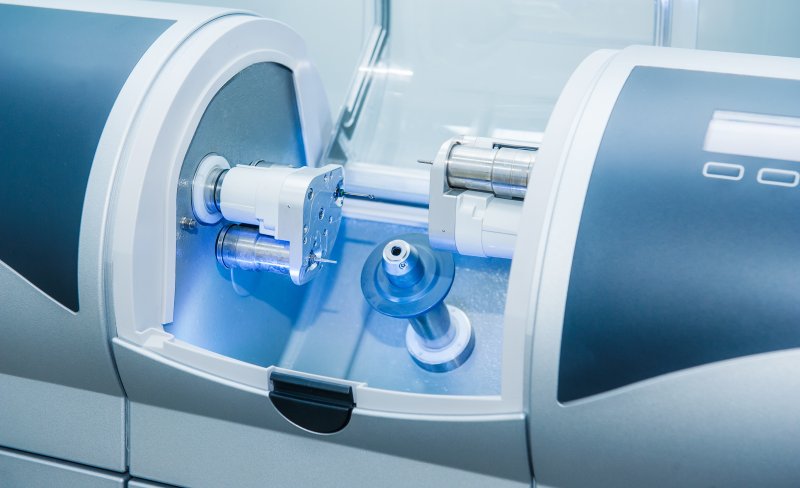 Dental crowns are one of the most versatile restorative services in dentistry period. Not only are they able to fix chips, cracks, and other fractures in teeth, but they can bring back the natural luster of your smile and restore your confidence just as much as your appearance. However, dental crowns can take quite a bit of time to create through traditional means. If you visit a dentist that makes CEREC crowns, however, here's how long you can expect to wait.
What are CEREC Crowns?
A CEREC (chairside economical restorations of esthetic ceramic) crown is a specific type of restoration made inside of a milling machine. These machines take a single block of ceramic and use a digital impression as a model to create the restoration.
While CEREC crowns do not require an offsite lab to create, they can still be highly customized and fabricated to your exact needs to ensure the best fit and function possible.
Additionally, they can be easily color-matched to blend in with your neighboring teeth so no one but you and the dental office you received it from will know you had a crown placed.
The CEREC Crown Process
Following your exam, the dentist will use a small, handheld device attached to a digital impression scanner to capture hundreds of images of your teeth. These images are then recompiled to create a highly accurate 3D model of your mouth, which then acts as a blueprint for your future restoration.
The CEREC milling machine takes this data, and with the help of computer-aided design, starts manufacturing your permanent crown from a single porcelain block. You can expect your crown to be made to your exact specifications.
After it is fabricated, the dentist will place it on top of your tooth and make any adjustments as needed. If you'd like, you'll even be able to watch the process as the machine creates your crown!
Traditional Crowns vs. CEREC Crowns
Compared to a traditional crown, the time it takes to receive a CEREC crown is truly night and day. For a traditional crown to be made, the dentist needs to send molds (or digital impressions) to a dental lab.
This facility is not only creating crowns for the dentist you're visiting, but all the other dentists in the area. As a result, a permanent crown can take about two weeks to receive.
In contrast, a CEREC crown skips this entire process by keeping the design and manufacture in-house. On average, you can expect your crown to be made in one to two hours. That means you can receive a brand-new restoration in a single dental appointment!
Need a dental crown fast without compromising quality? Choose CEREC crowns the next time you need to restore your smile!
About the Author
Dr. Neal Graber comes from a long family of dentists and continues to expand his education and skillset to provide his patients the best dentistry possible. One of the ways he makes treatments more convenient is through CEREC technology, allowing him to provide highly customized crowns more quickly. Whether you don't have time to wait or you're experiencing a dental emergency where crown placement is necessary, you can contact him through his website to schedule a visit.
Comments Off on How Long Does It Take to Create CEREC Crowns?
No Comments
No comments yet.
RSS feed for comments on this post.
Sorry, the comment form is closed at this time.